With the recent release of the Alonzo hard fork (Cardano smart contracts), there has been a lot of hype around Cardano and its token ADA. Cardano investors have been waiting patiently for the release of the Alonzo hard fork and it's simple to understand why, until now the use case for the Cardano network was predominantly speculative, but now developers can begin actively working on Cardano dApps.
ADA was already the 3rd largest cryptocurrency by market cap, and now with the release of smart contracts, the amount of active users on the Cardano network is only set to grow. As more and more people begin exploring all the features the Cardano network has to offer, it stands to reason that lots more people will begin staking their ADA, so why not get in early and start reaping the rewards of ADA staking.
#1 Cardano Staking Site – eToro
Best Cardano Staking Sites – Quick Pick
Here are our quick picks for the top 5 Cardano staking platforms:
eToro –

Overall Best Cardano Staking Platform

Binance –

Best for Staking a Range of Assets

Yoroi –

Best for Staking in a Range of Pools

Crypto.com –

Best Cardano Staking for beginners

KuCoin

– Best for Fixed Rewards
67% of all retail investor accounts lose money when trading CFDs with this provider.
What is Staking Cardano?
Before learning how to stake your Cardano, it's important we first understand what it means to stake crypto. In short, staking is essentially earning interest for holding your crypto assets. Typically, you'll have to choose between fixed and flexible staking, the main differences being you'll receive a higher reward with fixed staking, but you'll have to keep it 'locked' for a certain amount of time. With flexible staking, the rewards tend to be lower, but you have the ability to un-stake whenever you want.
Cardano uses a PoS (proof of stake) algorithm to validate all transactions and data going through the network; this differs from the more commonly utilized PoW (proof of work) system used by Bitcoin and a myriad of other cryptocurrencies. Without getting too complex a PoW algorithm validates transaction data with the use of miners, these miners solve complex cryptographic puzzles in order to validate data. While this is an extremely secure system, the need for ever-increasing computing power results in high costs from needing to constantly upgrade hardware and extremely high electricity usage. A PoS system, on the other hand, does away with miners and instead relies on people staking their crypto to validate transaction data, this doesn't require constant hardware upgrades and therefore reduces electric usage. While with a PoW system, the whole network has to be involved in validating a transaction, with a PoS system this isn't the case, increasing scalability, and therefore potentially being the better option for the long-term.
Prior to staking any ADA, you should know the differences between staking and delegating your ADA, while both are very similar concepts, there are a few key differences between the two. Cardano staking requires more ADA, more technical know-how, and more time, you'll need to run a pool that supports the network. Delegation, on the other hand, does not require you to operate a pool, instead, you support the network by allocating your ADA to one or more staking pools. When delegating your ADA you're not technically "staking" anything but letting those running pools stake ADA on your behalf.
5 Best Cardano Staking Platforms
When it comes to choosing a platform to stake your ADA, you have a plenty of options, each with a variety of different returns and requirements. Due to the vast amount of options, it's easy to get confused when trying to select the best platform for staking Cardano, which is why we've crunched the numbers to bring you this list of the best Cardano staking platforms.
1. eToro – Overall Best Cardano Staking Platform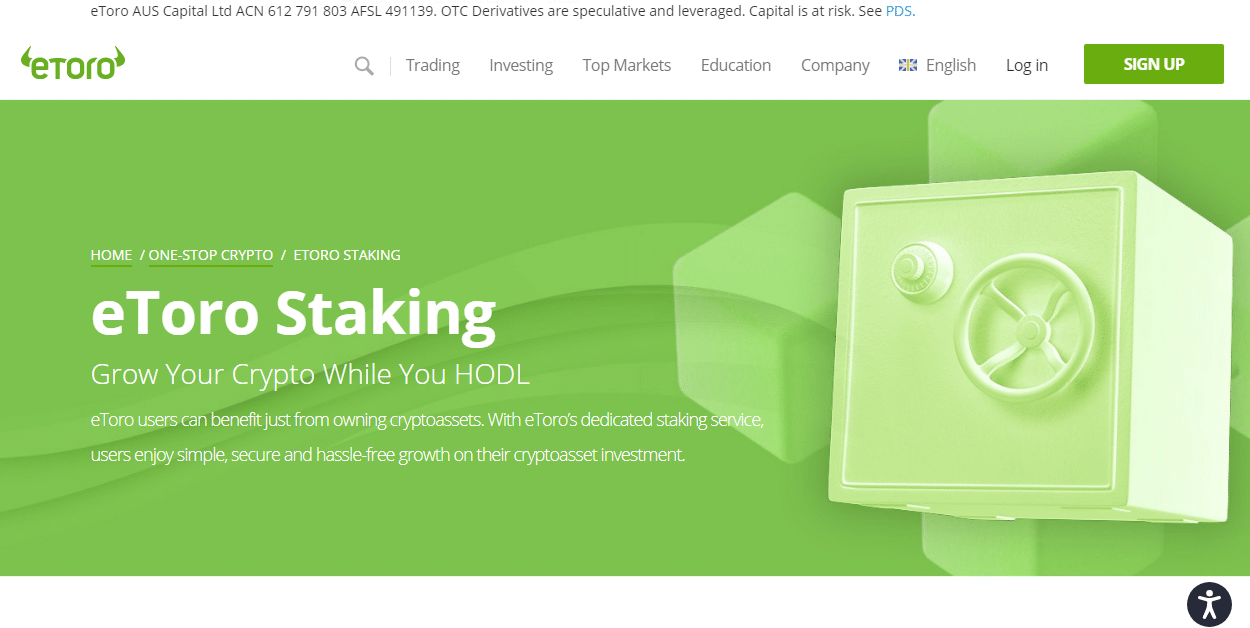 eToro is a popular name in the crypto space, thanks to its excellent mixture of security, features, and ease of use. With over 20 million users and a track record of around 15 years, eToro predates most cryptocurrencies currently on the market. If you're worried about security, as eToro is fully regulated, it's subject to strict data protection laws and encrypts all personal information.
Earlier, we discussed the difference between staking and delegating your ADA, with eToro you're spared all the hassle of running or picking the right pool, instead eToro takes care of all the complicated stuff for you. You will earn rewards in the same currency you stake, meaning if you stake ADA you will get rewarded in ADA once a month, based on the average amount of ADA held.
As eToro executes the entire staking procedure on behalf of its users, they…


Read More: Best Cardano Staking Platforms – Top 5 ADA Staking Platforms Compared